Technology news
Machine for Isolated Soy Protein and Process
2017-03-16
Isolated soybean proteins, or soybean protein isolates as they are also called, are the most concentrated form of commercially available soybean protein products. They contain over 90% protein, on a moisture free basis.Henan Huatai oil machine is a full service custom Protein machine manufacturer.
isolated soy protein process: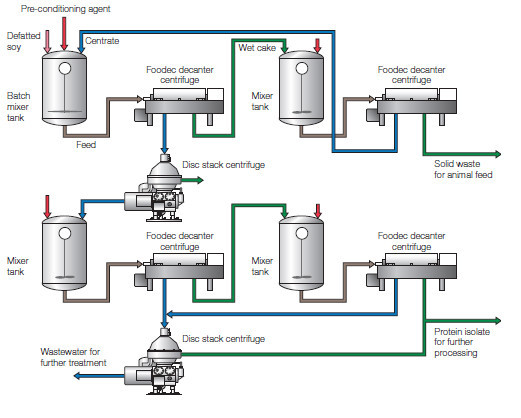 Quality of soy protein:
1 finished soy protein powder moisture: 10% or less;
2 finished soy protein powder residue solvent: 500 mg/kg or less (detonation test);
3 finished carbohydrate dense residual solvent: 100 mg/kg or less (detonation test);
4 carbohydrate dense solid impurity content: 0.5% or less:
5 Soy protein powder dry base protein content: 65% or higher.

Consumption Indicators of Defatted Soy Protein Flour Production Line :
1. The steam workshop: 3 t/t or less soybean meal (8 to 10 kilograms of saturated steam and superheated steam slightly more);
2. The plant power consumption: 280 KWH/h or less soybean meal;
3. The workshop water consumption: 1.1 t/t or less low temperature soybean meal;
4. The CIP cleaning alkali: 50 kg/month
5. Compressed air: 6 kg or more, the consumption of 3.5 Nm3 / min.
6. Alcohol consumption: 13 kg/t or less large soybean meal;
7. Antifoaming agent consumption: 15 kg/day.